All prices are in Canadian dollars.
Supply Chain Metrics - Power BI
Date:
Oct 10, 2023 - Oct 11, 2023
Time:
5:30 PM
Location:

Virtual


SK
---
SUPPLY CHAIN METRICS - POWER BI
DATE:

October 10 & 11, 2023

TIME:

5:30 - 9:00 PM CST

CPD:

5 Credits
LOCATION:

Virtual via MS Teams

PRICE:

$425 +GST Members

$495 +GST Non-Members
PRE-REQUISITE
None. No Excel or PowerPoint experience is required!
OVERVIEW
Peter Drucker once said, "You can't manage what you don't measure." These days, SCM organizations are all about metrics with dashboarding being the fastest-growing trend. Technology is speeding up how we do business at every step of the value chain, and leaders increasingly rely on dashboards that can deliver accurate information and insights in real-time.
Microsoft Power BI is a suite of business analytics tools specializing in data visualization, and dashboarding. Users can create, publish and share professional-looking and interactive dashboards. It's an official product of Microsoft, so it's fully integrated into the Office Suite, i.e.
Excel is a powerful analytics tool, combine it with Power BI to get broad data analytics and visualization capabilities.
Who should attend?
SCM Professionals who want to deliver insights throughout their organizations, produce beautiful and dynamic dashboards, and drive analysis with ease.
Why this Workshop?
This is the future of SCM reporting. Aside from the benefits of creating dashboards with ease, Power BI comes with powerful features. Do you want to publish your dashboards on the cloud and share it with others in your organization? No problem. Do you want to pull data from multiple sources like Excel, Access, SAP, and Oracle? Easy. Does your boss want to view the dashboard on his mobile phone? Done.
What Value can I expect?
You will gain operational knowledge of Power BI and its most important features so that you can implement it in your organizations immediately.
KEY OUTCOMES
By attending this workshop, participants will:
Publish and share dashboards

Create a dashboard

Publish and share dashboards
Some of the topics covered:
Dashboarding basics

Retrieving data from different formats and sources

Consolidating data from multiple files

Power Query: Merge, Append, Transform

Creating interactive dashboards

Viewing dashboards on a mobile device

Custom tooltips

Grouping

Bookmarks

Power BI analytics: Forecasting and outlier detection

Natural Language Processing Q&A

Advanced visuals: Decomposition Tree, Smart Narrative, Key Influencers, and more

Introduction to Power BI Machine Learning
ABOUT THE INSTRUCTOR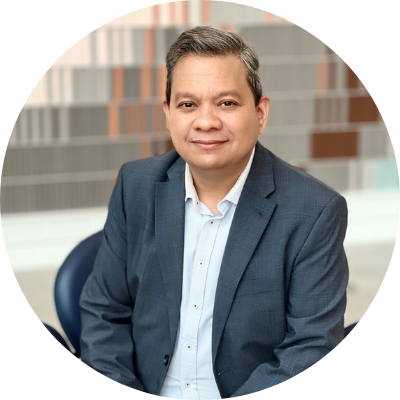 Ian Gonzalez
Ian Gonzalez
is a well-respected Corporate Professional, Educator, and Thought Leader in the field of Data Analysis and Data Storytelling. He has over 18 years of experience in Supply Chain, Data Analytics, and Reporting roles across multiple oil & gas and aviation companies.
Ian has a passion for teaching and is a strong advocate for the advancement of analytics professionals across multiple industries and disciplines. Outside of his "day job", he teaches various analytics courses with Supply Chain Canada. Through his diverse skillset and corporate professional experience, Ian brings unique perspectives and a practical approach to using data tools and techniques so that others may enjoy the benefits of making sound, data-driven decisions. At every opportunity, Ian advocates for the democratization of data skills and believes in tapping into the potential of every individual so they may contribute to their organization's goals.
Ian's unique brand of humour compels audiences to laugh while they learn. He engages groups from the moment he steps in front of them and leaves them with empowering tools and focused mindsets that they will use long after the lights have gone out on the event.
Ian started his career with a bachelor's degree in Mechanical Engineering and subsequently earned his master's degree in Business Administration. He also has a Business Analytics Certificate from the Harvard Business School program.
When not teaching or speaking, Ian loves to care for his backyard garden or share the wonders of travel and adventure with his wife and two lovely daughters.
REFUND POLICY
Registrants will receive a full refund for courses cancelled by Supply Chain Canada, Saskatchewan Institute.
Registrants who have received written acceptance into a course and provided written notice to Supply Chain Canada, Saskatchewan Institute of their withdrawal from the course 14 days prior to the first day of class, will be provided with a full refund. After 14 days, refunds will not be granted.
If you would like to withdraw from a course please send an e-mail to info.sk@supplychaincanada.com. You are required to inform the Saskatchewan Institute of your intent as soon as possible. Clearly state your intention to withdraw and provide authorization for us to proceed.
To begin, please enter your email address below.
Should you not be able to complete the form in one sitting, any information you have entered will be saved and your form will continue from where you left off when you return.

By entering your email you are giving your consent to be contacted electronically by Supply Chain Canada on matters regarding the event and your registration/enrollment.